Buddle Findlay is embracing diversity and inclusion for a more thriving legal profession, showing students the law might be their calling.
Through our partnership with Student360, Buddle Findlay provides Māori and Pacific Island secondary school students the opportunity to get a taste of working in a law firm, with the aim of inspiring and supporting more students from diverse backgrounds to find their passion in the legal profession.
"Partnering with Student360, with a special focus on supporting more Māori and Pacific Island students to explore a legal career, is one way we can help break down barriers to inclusion.  We want to show students that there are many paths to enjoy a rewarding career in law that aligns with their passions and values," says Philip Maitland, Buddle Findlay chief executive.
As part of their Student360 experience, eight students recently spent a week with Buddle Findlay mentors in our Auckland and Wellington offices, exploring different practice areas, developing mock legal scenarios, collaborating and competing against each other in a negotiation challenge, and forming connections.  The work experience gave them the opportunity to explore the possibilities of a legal career, in a supportive environment.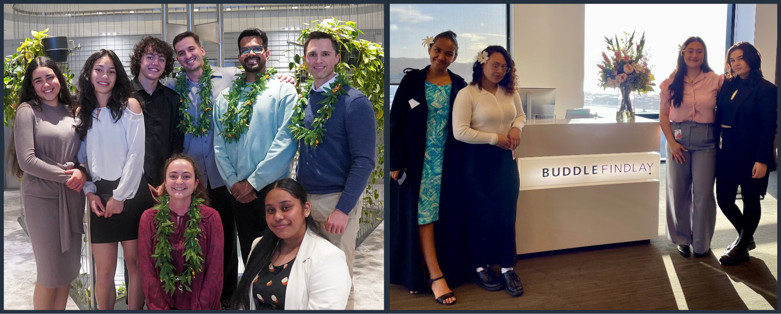 "The students have told us a particular highlight was visiting the High Court, learning and discussing its significance in New Zealand history, as well as getting exposure to the various legal services we offer to our clients and seeing the number of opportunities that come with studying law," Maitland says.
Breana Nepia Tehau (Rongomaiwahine), from Porirua College, first got interested in law when watching Law & Order.  "I really liked watching when the victims were in court and the lawyers argued the points, and my fascination grew from there," she says.
Jude Alexander Harris (Ngā Ruahine) who attends Onehunga High School, is drawn to a career in law or education, believing in the power of knowledge to transform lives.  "I want to work in law because it combines my passion for critical thinking and problem-solving with my desire to make a positive impact on society.  I believe it's a field where I can fight for justice, defend people's rights, and contribute to creating a fair and equitable legal system," he says.
And after completing the internship, the feedback has been hugely positive.  While one student found the thought of working as a lawyer before the internship was "quite intimidating", the whole experience has brought clarity around how the legal system works and where she wants to go.  Another says it "made me think I was more capable than I thought I was".
Diversity and inclusion are fundamental elements of Buddle Findlay's strategic priorities.  The Student360 internship is one of the initiatives that supports the firm in developing a diverse workforce.  
"A diverse and inclusive profession across all abilities, backgrounds, and genders makes the legal system in our country much stronger and fairer.  If we're more representative of the society we live in, taking different cultural perspectives into account, we're much better able to serve our communities," says Maitland.
"Providing opportunities to more young people from underrepresented backgrounds also makes our workplaces more innovative and more open to new ideas that are essential to a thriving future for our profession.  We thoroughly enjoy having the students in our offices, being inspired by their enthusiasm and seeing our work through fresh eyes."
Watch this short video developed by the Student360 team to learn more about the programme and the student's experience at Buddle Findlay.