The infrastructure project life cycle is complex, multi-faceted and requires participation and input from a wide range of stakeholders with broad industry knowledge.  Successful projects need more than advisers; they need industry experts who can seamlessly integrate into high performing project-teams.
We understand the practical demands and issues facing the different participants in infrastructure projects.  As the New Zealand lawyers with the most experience working as participants in project alliances, we have lived and breathed those demands.
We collaborate with sponsors, developers, contractors and financiers at every stage of infrastructure development.  We have a nation-wide team with expertise in all aspects of the project lifecycle, including optimal legal structures, project financing, regulatory consents (including some of New Zealand's largest and most complex planning processes), procurement processes, concession agreements, tender documents, construction contracts and other project documents.  Our expertise extends to the operations and maintenance stage as well as dispute management and resolution.
We have a particular focus on large transport, public and social infrastructure, telecommunications, energy, health and water projects. 
Read our

latest report 'delivering low carbon infrastructure'

In this publication we discuss the challenges of the existing regulatory framework, Three Waters reform, taxation and decarbonisation, the need for innovation in green and sustainable funding options, trends in construction contracts to address carbon requirements, the changing climate disclosure regime, and how to adapt if your assets are located on the coast as sea levels rise. 

 
The project life cycle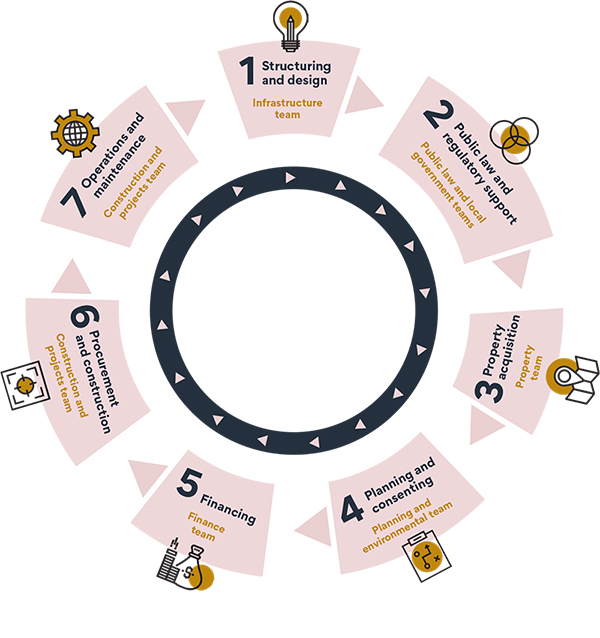 "The Cardrona Wastewater Project was a great opportunity for BNZ to work with the private sector in an innovative way to deliver sustainable three waters infrastructure for the public sector and provide opportunities for growth in regional New Zealand"
Susan Lucking, Director, Specialised Finance, Bank of New Zealand
---
"Excellent service provider."
IFLR1000 2020
---
"The firm is excellent at communication while providing timely responses in an uncomplicated form."
IFLR1000 2020
---
"Very high quality advice and support."
IFLR1000 2020
---
Member of NZCID (New Zealand Council for Infrastructure Development)
Member of Infrastructure New Zealand