56th ISPS Handa Halberg Awards finalists announced
10 January 2019
As a key sponsor of the Halberg Foundation (the Foundation), Buddle Findlay would like to congratulate all of the finalists for the 56th ISPS Handa Halberg Awards (the Awards).  The winners in each category will be announced by the Foundation at the annual Awards function on Thursday 21 February at Spark Arena in Auckland and broadcast live on Sky Sport from 8.00pm.
The Buddle Findlay Coach of the Year Award finalists are:
Allan Bunting (rugby union)

Clark Laidlaw (rugby union)

Gordon Walker (canoe racing)

Joe Schmidt (rugby union)

Leon Birnie (football).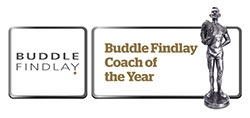 Buddle Findlay prides itself on its involvement in the community and marked two years of support and partnership with the Foundation in October last year.  The great work that the Foundation does to support physically and visually impaired New Zealanders to partake in sport and recreation.
About the Awards
Named after Olympic champion Sir Murray Halberg (ONZ), the Halberg Awards is the country's pre-eminent event to honour and celebrate New Zealand sporting excellence.  It also provides the Halberg Foundation with a flagship fundraising opportunity for Sir Murray's charity, which aims to enhance the lives of physically disabled New Zealanders by enabling them to participate in sport and recreation.  For more information go to halbergawards.co.nz.